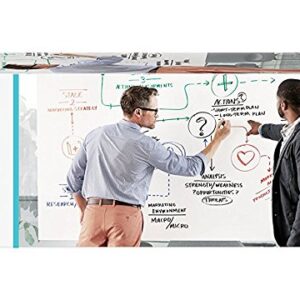 3M-DEF4x3 POST IT DRYERASE SURFACE 120×90 WITH DEFTRAY – DRY ERASE TRAY
From horizontal applications on desks or tables to vertical applications on surfaces where traditional whiteboards cannot be installed, such as windows, the Post-it Dry Erase Surface can be cut-to-fit and provides endless possibilities for dry erase solutions in new places. It's even great for replacing old dry erase surfaces that may be ghosted – simply apply over the existing board and it looks new again.
Description
The Post-it Dry Erase Surface is great for horizontal applications; transform an ordinary table or desk into a dry erase surface to create new collaboration areas. Whether at work to foster productivity or in the home to provide kids a new creative area, this product can transform ordinary spaces . Kids can use the Dry Erase Surface to practice math, writing or any other creative or educational activity. *The Post-it Dry Erase Surface is designed to stick to a variety of painted drywall and steel surfaces, glass, finished wood, and existing whiteboards or chalk boards. If the surface you are applying it to resists adhesion, we will provide a complete refund or an adhesion assist kit and replacement product, whichever you prefer. The Post-it Dry Erase Surface is easy to install – just unroll, peel and stick. Utilizing a proprietary dry erase coating, the Post-it Dry Erase Surface is stain-proof, erases cleanly every time and writes smoothly.