1. VL-WF4 features tie-in fixed wooden cabinet, can store article, can not only save space, but also make the desktop cleaner and more convenient for employees. VL is matching perfectly to our new table top panel that is so amazingly thin making it appears to float on air. Its natural appearance offers a distinction and simplicity that blends seamlessly with this age of technology.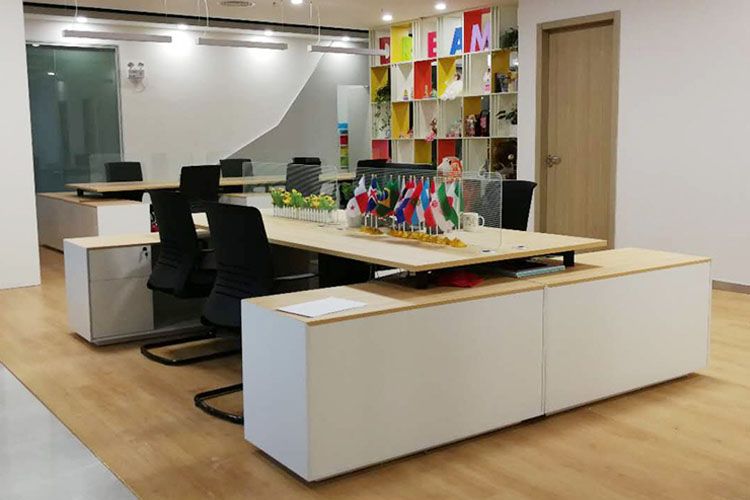 2. The desk frame and wires tray design makes all without taking up much space and more beautiful. this design gives people cord-free surfaces for work and easy access to outlets and ports.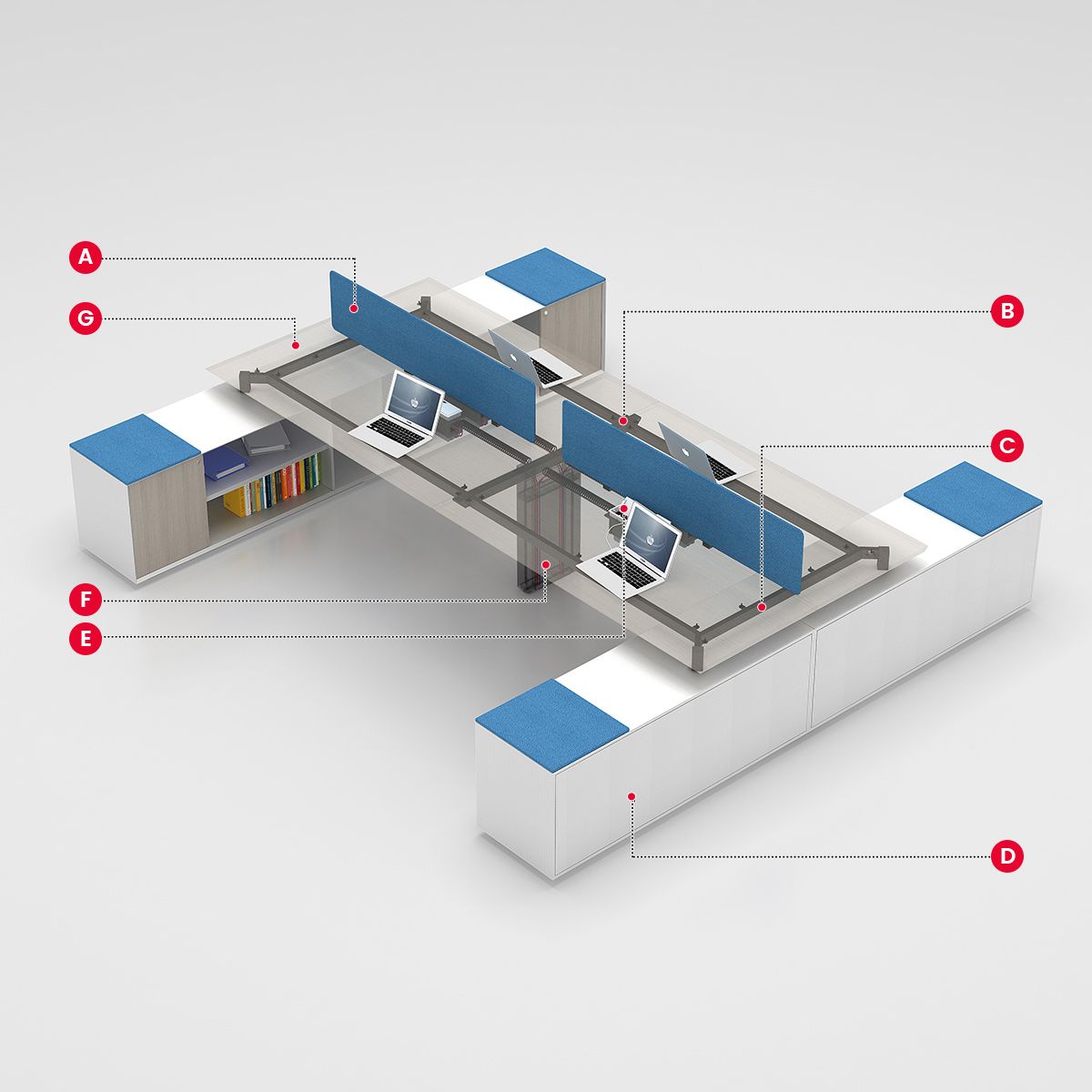 A:
Desk screen
1. invisible screen clip
2. T=12mm
3. 24 popular colors option
B:
Mid leg via cable manager 
Material:T=2mm metal pipe, 50mm*50mm square pole Finishing: Powder coating, 80~120μ
C:
Desk frame 
Material: T=1.5mm metal pipe, 50mm*30mm square pole    Finishing:Powder coating 80~120μ
D;
Side cabinet
Size:W1200*D520*H625mm: W1600*D520*H625mm
E:
Wire box 
Material:metal 
Capacity:three sockets
F:
Wires tray 
Type:keel tray(can hold 30 wires)
metal wries tray(to fit Various of socket for purpose use)
G:
Table top 
Core:partical board, 
T=25mm, E1grade 
Finishing:melamine 
edge banding:T=2mm PVC
3. Extension Bar: Effectively reduce the requirement of shelf storage specifications, customers can adjust flexibly, convenient storage reduce costs.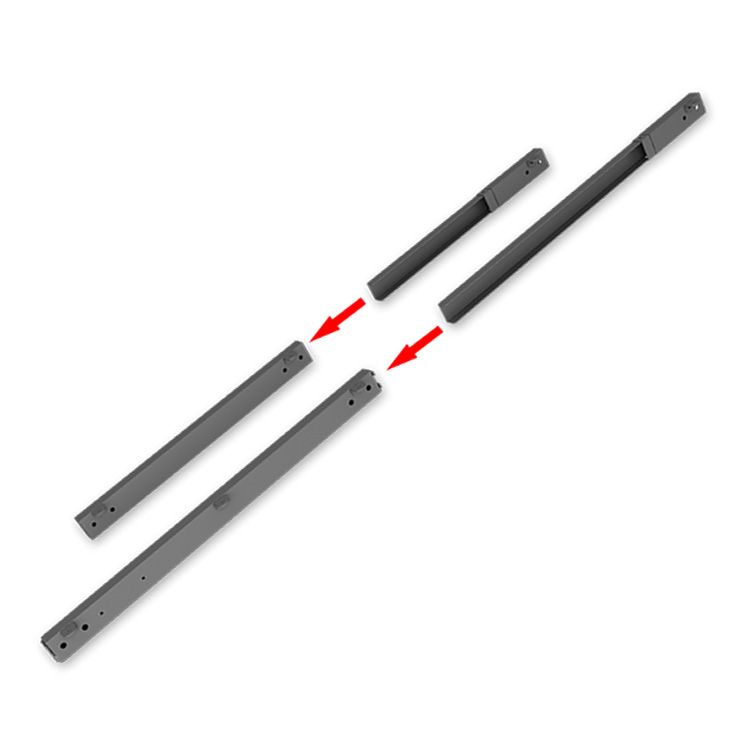 4. Very Strong Desk Frame:300KG loading remain solid and firm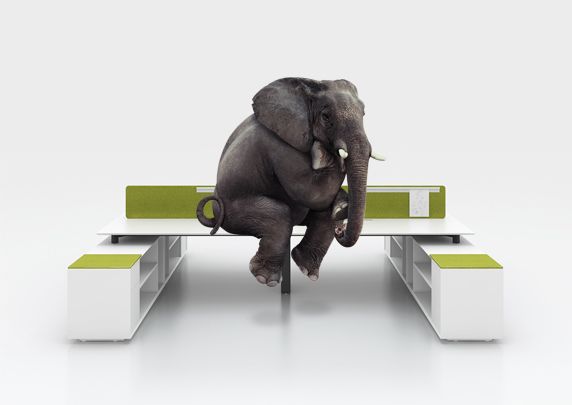 5. Multi-functional Desk Screen:
①24 popular colors
②Four screens are available
③H=350mm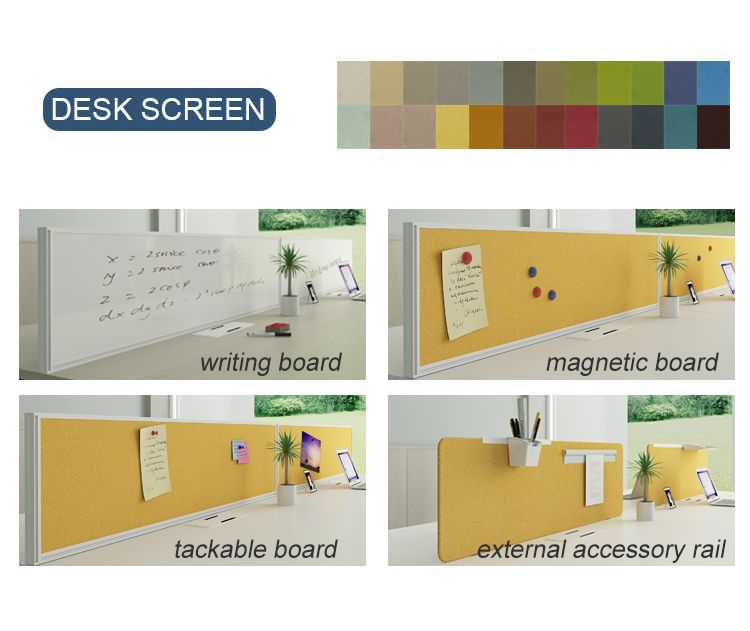 6. Desk top: 2 top edges,13 desk top colors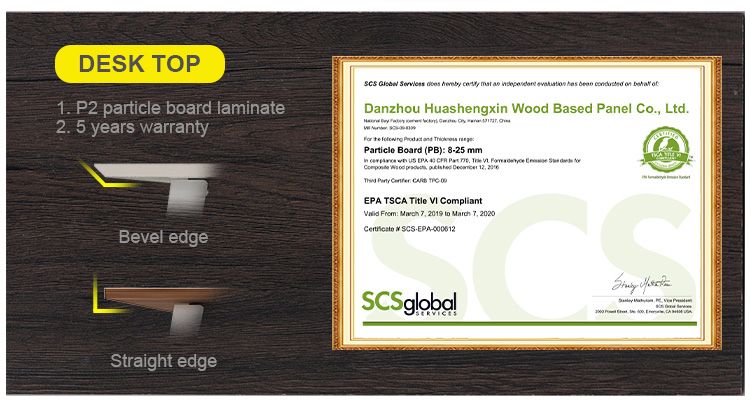 7. Easy Installation:2 types of screws only, both of which are "+"screw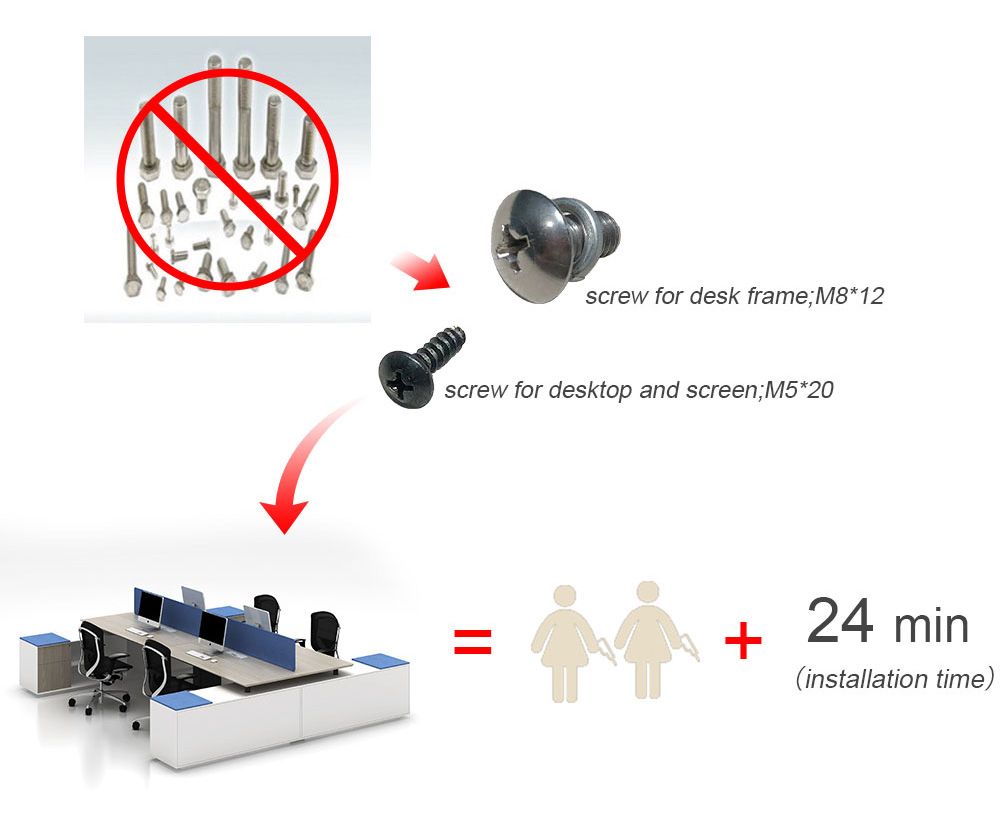 8. Clear Packing:
Desk will be separated into A B C D E F carton,for example A carton is the table leg, B carton is for the bar,C carton is for table top,D carton is for desk screen,so very easy for you to keep and stock and got what you want,All carton we will high line in different color for easy searching.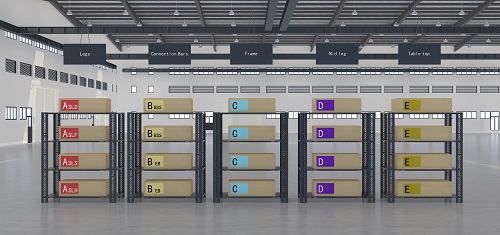 We have 15 standard dimensions for you to choose from, and we also support customization.The standard size is as follows:
1. W1500*D1200*H750(mm:each seat)
2. W1500*D1400*H750(mm:each seat)
3. W1500*D1500*H750(mm:each seat)
4. W1600*D1200*H750(mm:each seat)
5. W1600*D1400*H750(mm:each seat)
6. W1600*D1500*H750(mm:each seat)
7. W1800*D1200*H750(mm:each seat)
8. W1800*D1400*H750(mm:each seat)
9. W1800*D1500*H750(mm:each seat)
---
Wooden modern office table staff workstation could match to teamwork 4 people or 6 people. We, a trusted office desk workstation factory and office desk supplier, always produce quality office workstation and office tables. At the same time modern staff workstation with 4-people we manufactured, have already exported to oversea market with mass quantities as increasing trend per year. In meantime, we also accept the order as OEM and ODM from our buyers because senior designers and technicians joined in our team. Please do not hesitate to contact our professional sales representatives for competitive price in bulk sourcing.